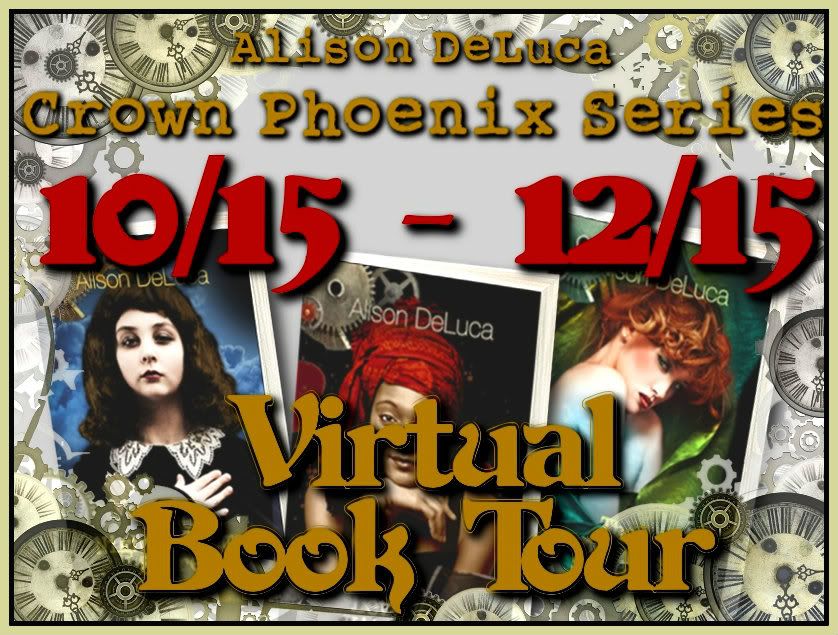 I am soooooooooooooooooooooooo EXCITED to be apart of this tour for my friend and fellow ninja Alison Deluca!
Here is an interview Alison did with the fabulous Barbara Cantwell.
My interview is with Barbara Cantwell, from the Crown Phoenix series. How are you, Barbara?
BARBARA: Miss Cantwell, please. I prefer that people respect their betters.
AD: I beg your pardon, Miss Cantwell. How are things going for you?
BARBARA: I was doing very well indeed until that little brat Miriam and her dreadful governess came along. We were poised to take over the brat's holdings, including her house and her father's business empire. I'm not finished yet, however – they certainly haven't heard the last of me.
AD: Why did you want to take over something that belongs to someone else?
BARBARA: I'm certain that the brat is so stupid she won't even notice. She has no idea how rich she is in real life. And to think of all that lovely money going to a girl who can't keep her hair brushed – it makes my skin crawl.
Besides, just look at me, darling. I have many admirers and I'm the toast of the surrounding counties, not to mention London, where I cut quite a dash. I need dresses for many occasions, as well as hats of course. Sometimes I wear five or six different changes of dress a day.
AD: Have you heard from Simon?
BARBARA: Unfortunately, Simon seems to have had his head turned by the brat, Miriam, and her governess, Manapalata Postulate. (What a ridiculous name! Did you ever?)
I'm certain that once Simon sees me again, especially if I'm wearing my new lemon-colored silk dress, he'll come back to me. I'll be able to wind him around my little finger, mark my words. He was bowled over when he first met me, darling. Simply bowled over.
AD: Do you deny that you imprisoned and tortured him? Men don't seem to enjoy that, for the most part.
BARBARA: Nonsense. I had to present my case, and since he wouldn't listen to me, my brother Valiant and I had to take matters into our own hands. Simon was housed and clothed and fed – for the most part.
Perhaps I did use some strong tactics during Simon's little stay, but it had to be done. If he had seen our point, he could have joined us and become fabulously wealthy. Simon and I would have been rich together, and I know we would be the very cream of society.
It still could happen, once he gets over that ridiculous friendship with that Miriam. If only Miss Postulate would go back to where she came from!
AD: That raises the point of Lampala, the island that is the source of Miriam's fortune. Are you still involved with the royalty there?
BARBARA: Wouldn't you like to know? Perhaps I am. King Atol, the man we put on the throne, will lead the country once again. You may lay money on it.
AD: And what of the Crown Phoenix?
BARBARA: Such a heavy, bulky old thing! Who would believe that an old typing machine could move time and space the way it does? I shall get my hands on the device again, and it will be mine, along with its powers.
AD: And what is the point of all this, Barbara? I mean to say, Miss Cantwell?
BARBARA: Darling, it's all to get me more dresses, servants, diamonds, and admirers, of course.
About the Author:
Alison DeLuca is the author of several steampunk and urban fantasy books.
She was born in Arizona and has also lived in Pennsylvania, Illinois, Mexico, Ireland, and Spain.
Currently she wrestles words and laundry in New Jersey.
You can find Alison here:
Pinterest:
http://pinterest.com/alisondeluca/